Outlook Web Access – Outlook Anywhere Comparison
Outlook Web Access – Outlook Anywhere Comparison
PURPOSE
To document the differences between Outlook Web Access, (Current version with Exchange 2003) and Outlook Web App. (New version with Exchange 2010)
Below are (2) screenshots; the first is of Outlook Web Access Full Version, and the second is of Outlook Web App (Also called "Outlook Anywhere")  *Note – If you can only log into Outlook Web Access Light Version, you may need to configure your Internet browser for Compatibility Mode.  Instructions can be found here.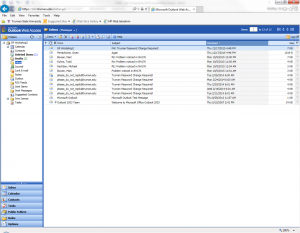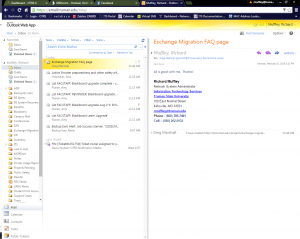 The two versions look different, but are essentially the same in functionality. The Outlook Web App (Outlook Anywhere) has more of the appearance and layout of Outlook.
Several changes have been made from Outlook Web Access to Outlook Web App. They are;
All folders are listed on the left-hand side of the windows, with no button labeled "Folders" to click on to see the additional folders.
The only folders hidden are sub-folders, and those are collapsed and can be expanded if needed.
The use of words instead of icons for the menus at the top of the screen.
Composing an Email
When composing a new email, the screen may look differently. Below are screenshots of each:
 Outlook Web Access – Old version with Exchange 2003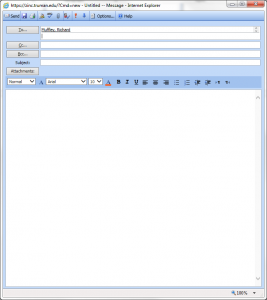 Outlook Web App – New version with Exchange 2010