Internet Explorer Compatibilty View for Outlook Web App
To determine if you are having the issue mentioned in this tech document, open Internet Explorer and go to exchange.truman.edu.  Once open, it will look like the screenshot below.  If you have "Use the light version of Outlook Web App" checked, and cannot uncheck, or have the "broken" icon next to your URL as shown below, perform the following steps to use the full version of Outlook Web App.
First, while still in Internet Explorer, go to the either "Tools" in the menu and select "Compatibility View Settings". You can also get to the Compatibility View Settings by clicking on the "Gear" to the far right-side of the window, and selecting "Compatibility View Settings".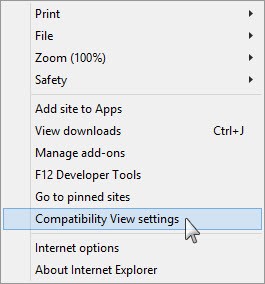 Next, you will be shown the Compatibility View Settings window. Type "Truman.edu" in the "Add this website:" field, and click "Add".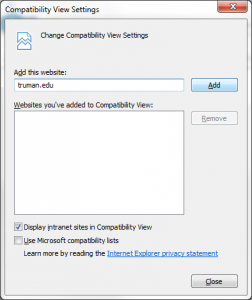 Once added, click "Close", and all of Truman's websites are now able to run in Compatibility View. You may need to exit Internet Explorer to get the changes to take affect.