Wireless Guest Access
The TrumanGuest network is provided for guests of Truman and visitors to the University. It provides access to the wireless network for 24 hours.
After selecting TrumanGuest wireless, it will require a Network Security Key (passcode) to establish the initial connection to the WiFi. The security key is bulldogs all lowercase. Once connected, you'll have the option for Username/password login or Guest signup.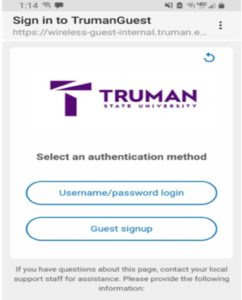 Please choose "Guest signup" and then either SMS-based registration or E-mail-based registration. Note: With the Email-based registration, you will initially be connected to the network for 10 minutes. To get the full 24 hour access, go to your e-mail on the device that is connected and click Activate Access to extend your access.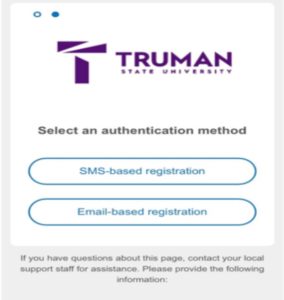 When selecting the SMS option, you will need to Accept the Terms of Truman's wireless policy and then enter your 10-digit phone number and mobile provider. Note: if your mobile provider is not listed, you will have to use the Email-based registration.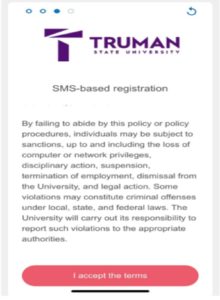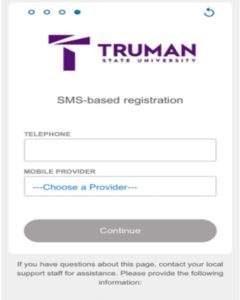 With SMS, you will receive a text (within a few minutes) from "spike@truman.edu" with a Pin that you will enter on the "Confirm Mobile Phone Number" page and click "Continue" to gain network access for 24 hours. Note: for each day of access, these steps will need to be repeated.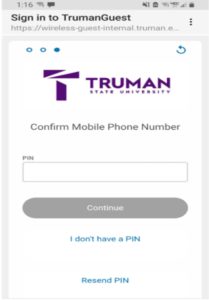 The Email-based Registration will send an email that looks similar to the image below. Please take note that you will have to activate the full 24 hour access within the 10 minutes of receiving the email; otherwise, you will have to repeat the registration process: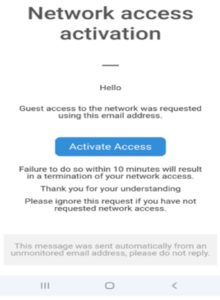 ---
For any questions please contact the IT Service Center at (660) 785-4544.
---