Outlook Web Access Guide
Managing your Truman mail, calendar and tasklist from the web
Outlook Web access provides access to your e-mail and other outlook folders from the web. You can logon and read e-mail, send e-mail, check your calendar and schedule appointments. Outlook Web Access provides most of the same features that Outlook would in your office; for a comprehensive list of the differences see Microsoft's documentation.
Is Outlook Web Access for me?
We have finished migrating all faculty and staff over to Exchange, the server that powers Outlook Web Access.  Outlook Web Access is just for faculty and staff, all students should access their e-mail through TruView.
Logging on to Exchange
To logon to Outlook Web Access, go to http://exchange.truman.edu  Here you will need to supply your network username and password. Your username needs to be preceded by TRUMAN   For example the user John Doe with the username "jdoe" would enter TRUMANjdoe. The password is your normal network password, the same password as you use to logon to your computer every day.
Screenshot: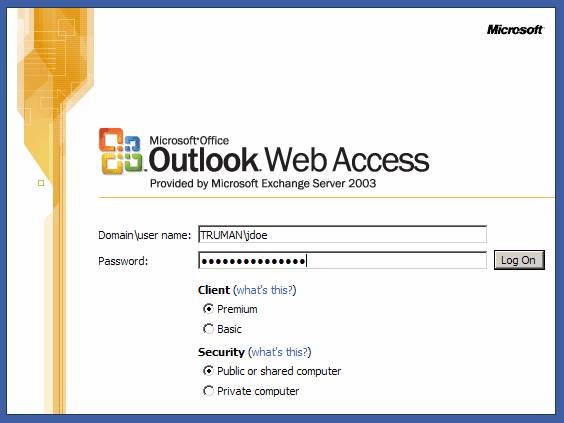 Common questions
I don't see all of my e-mail or Why don't I see my personal folders in Outlook Web Access?
Outlook Web Access will not show any Personal Folders that you may have with Outlook on your office computer. This is a limitation of Outlook Web Access. Personal Folders is data that is physically stored on your computer. Personal Folders are not the same as e-mail folders created in your Exchange mailbox. Outlook Web Access will access these folders without a problem.
Why does Outlook Web Access ask me to logon again after composing a lengthy e-mail message?
Outlook Web Access will time out by default after a period of inactivity. To prevent this, at the logon page you can set the Security option to Private Computer. This will disable the timeout feature. If you enable this option however, be sure to click the Logoff button to close your session.
Why can't I logon to Outlook Web Access?
The first thing you need to verify is that you're entering your username correctly. See the above "Logging on to Exchange" section. If you are entering your username correctly and you do know that you have been migrated to Exchange, then you should clear your browsers cookies and temporary internet files, restart the browser and try again. If your problems persist contact the ITS Helpdesk at x4544.