Barracuda Spam Firewall
What is a Barracuda Spam Firewall?
The Barracuda Spam Firewall is an integrated hardware and software solution designed to protect Truman email from spam, virus, spoofing, phishing and spyware attacks.
How does Barracuda work?
The Barracuda spam firewall sits in front of the Truman email servers and processes all email messages from the Internet.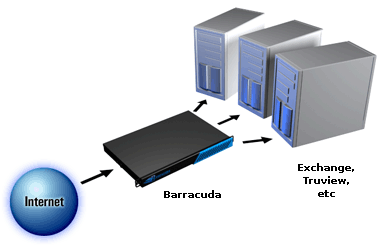 It then scans email for viruses and spam.  Allowed messages are then delivered to the email servers.  Each message goes through 10 layers of tests to determine its spam probability.  A few of these include:
Real-Time Blacklists – Barracuda Central maintains lists of the known largest spammers.  These lists are automatically updated in real-time as new spammers emerge.  Email from spammers on the blacklists are automatically blocked.
Email Keyword Scanning – The Barracuda firewall looks for certain keywords such as 'viagra' and uses a rating criteria and threshold to determine spam likelihood.  An advertisement selling viagra would look very different than a study about viagra and the emails would be rated accordingly.
Checksum Technology – Barracuda Central monitors email traffic through the Internet and uses checksum technology to keep track of the number of times a particular message has appeared on the Internet. If a message has appeared very broadly, it would be categorized as known spam. Checksums of known spam messages are utilized by the Barracuda Spam Firewall to block spam messages.
Message Authenticity Checking – Several algorithms are utilized to verify the authenticity of a message. Some of these are simple checks to verify that the "from address" is authentic. Some are more complex relating to the SMTP protocol.
Blacklists & Whitelists – Domains, IPs, and email addresses can be blocked or whitelisted (allowed through). These lists are maintained on a per-user basis and a full system basis.
Bayesian Algorithms – Bayesian filters are personalized to each user and adapt automatically to changes in spam. To determine the likelihood that an email is spam, these filters use Bayesian analysis to compare the words or phrases in the email in question to the frequency of the same words or phrases in the intended recipient's previous emails (both legitimate and spam).
Intention Analysis – Email messages are scanned for links to known websites promoting spam.
What if the Barracuda isn't 100% sure an email message is spam?
After an email message goes through its 10 layers of tests, the Barracuda SPAM Firewall assigns it a spam probability number.  If Barracuda is 100% sure the email message is spam, it will be blocked.  You'll never see blocked messages so you won't have to waste your time sifting through these spam messages.  When Barracuda suspects a message is spam, it will quarantine the message.  Quarantined messages are saved on the Barracuda firewall for your review.
How do I check my quarantined email messages?
When your first email message is quarantined, you will receive an email from the Barracuda with instructions on accessing your personal quarantine area to review your email messages for spam.  If you accidentally deleted the email, you may visit https://barracuda.truman.edu.  Enter your Truman network userid and password to login.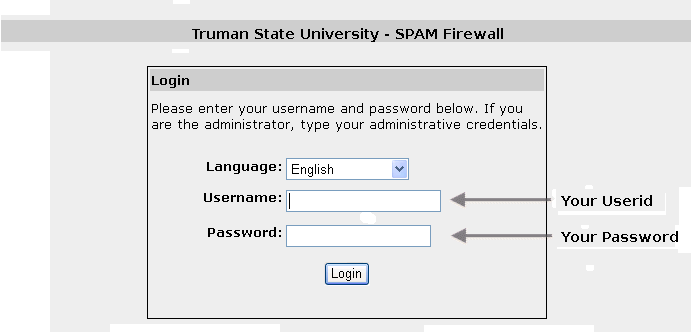 What is whitelisting and blacklisting and how does it work?
Whitelists are lists of email addresses you always want to receive email from.  Email that you "whitelist" does not get tested for spam although it will be scanned for viruses.  You might, for example, whitelist a company you conduct business with if you want to receive their regular advertisements and not worry about the Barracuda quarantining messages from them.
Tip: It isn't recommended to whitelist truman.edu.  While the Barracuda will give special consideration to email from Truman, spammers often use fake truman.edu email addresses hoping to bypass spam filters.  They won't bypass our filters by faking their address, but they will bypass yours if you whitelist truman.edu.
Conversely, blacklists are lists of email addresses you never want to receive email from.  Email that you "blacklist" is automatically blocked whether or not it is spam.  On rare occasion, the Barracuda might not catch spam messages from a particular sender.  In this case you could blacklist the email sender.
Blacklisting is not always effective because not only do many spam senders fake their email address, they will often change their email address after they spam a bunch of people.
To add/delete email addresses from your personal whitelists and/or blacklists, login to Barracuda and click the Preferences Tab.  Then click on the Whitelist/Blacklist sub-tab to edit your whitelist and blacklist.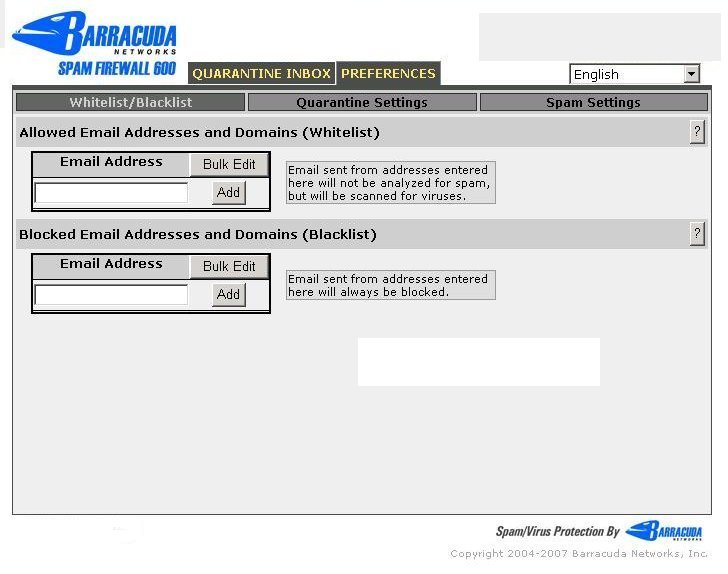 I received a spam or phishing email, how do I report it?
To report SPAM, please forward the email to spam@truman.edu, or phishing@truman.edu. This will notify the proper ITS personnel and help automatically classify future messages.