Connecting to the Secure Wireless Network with an iPhone, iPad, or iPod Touch
To use the iPhone or the iPod Touch with the TrumanSecureWireless network you will need version 2.0 or higher of the Apple firmware.
This is a free upgrade for iPhone users but requires a fee to Apple for iPod Touch users. If you have a new device from Apple, you might already have the new firmware. You can check by looking at Settings => General => About. For more information see Apple's Software Update page.
To begin, open Safari on your device. If you are not currently connected to a wireless network the following prompt will appear: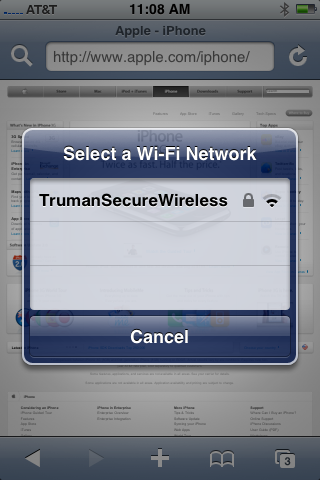 (NOTE: If you are already connected to another wireless network or a prompt does not appear, then go to Settings and select Wi-Fi. Also make sure the wireless is turned on.)
Select TrumanSecureWireless.
Select Okay at the following prompt:
Enter your username and password and select Join.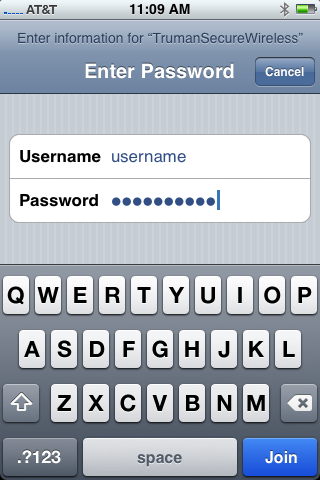 When you are prompted select Accept at the Certificate window.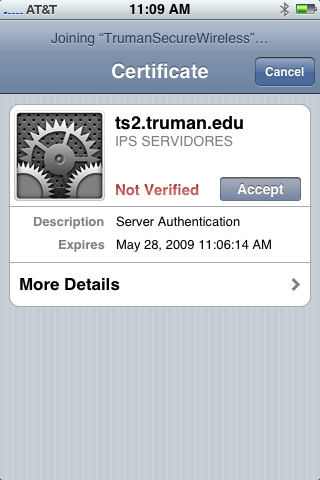 You should now be connected to the wireless network and may startup the safari browser to verify.
If you run into problems then try verifying that your username and password are correct. On these devices the password can be especially hard to type. If you enter three incorrect passwords, your account will be locked out for a period of 15 minutes. After the 15 minutes you can try again.
If after a correct password and truman id have been entered, all the above steps have been comepleted, and you have waited roughly three minutes to allow for connection and it still has issues, select the TrumanSecureWireless and remove it from network list (found in the wireless settings as seen in the picture above). Restart from beginning of this tutorial.