Creating Message Filters in Netscape Mail
Netscape contains an e-mail program which is capable of connecting to the Truman mail system. Netscape Mail provides the ability to help you sort your mail, and automatically remove junk or offensive e-mails. You can use certain criteria to create and maintain message filters that Netscape Mail can use to automatically perform certain actions, such as sending messages to the trash folder when they arrive.

To create a filter that acts on incoming messages:

Begin from the Mail window

Open the Tools menu and choose Message Filters.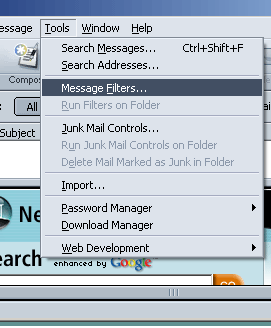 If you have multiple mail accounts, choose the one to which you want to apply the filter.

Click New. You see the Filter Rules dialog box, where you can specify the types of messages to act on, and the action you want the filter to perform.

Enter a descriptive title in the Filter Name box.

Select the match option you want Mail to use: "all of the following" (criteria) you choose, or "any of the following" of the conditions.

Use the pop-up menus to choose a search criteria (for example, "Subject," "Sender," "contains," "doesn't contain") and then type the text or phrase you want to match. (note: you will have to create a separate filter for each subject or sender you want to filter)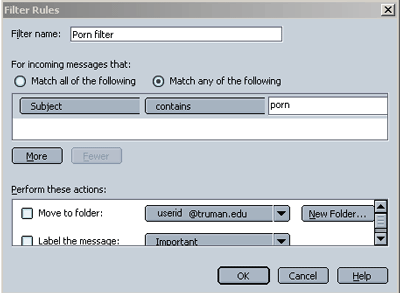 Click More to add criteria and Fewer to remove them.

Use the scrolling menu to choose the action you want the filter to apply to the messages (for example, Move to Folder, Delete, Mark as Read)
Click OK to confirm your settings.

Use the Message Filters dialog box to manage your filters, as follows:

To turn a filter on or off: Click the dot to the right of the filter name to enable it (diamond), or click it again to turn it off.

To edit a filter: Select the filter name and click Edit.

To delete a filter: Select the filter name and click Delete.

To change the order in which filters are applied: In the filter list, click a filter's name, and click the up or down arrow to move it.